Zefíra Trio
The members of Zefíra have established themselves as solo artists and chamber musicians of the highest standard. They are top prize winners of many national and international competitions and appear often as soloists with orchestras or in major recital halls across the country. This commitment to excellence is the foundation of their collaboration — to combine the instrumental mastery of the soloist into the 'many-become-one' that defines great chamber music playing, and is achieved only by long-term association and mutuality in joint performance.
Committed to education and community outreach, the Zefíra Trio often brings their performances to audiences who have limited opportunity to hear first-rate classical concerts, but who are highly receptive to both the aesthetic and the educational experience that these concerts provide. Members of the trio are also on the performance and chamber music faculties of several institutions and are dedicated to reaching the next generation of young musicians through private teaching, coaching, and workshops.
The Zefíra Trio programming reflects a commitment to musical excellence that displays the artistry and depth of each instrument as both an individual voice and as part of a unified whole. Programs often highlight the unique sonorities and capabilities of each instrument by including some of the great duo or solo repertoire alongside piano trios. To fully connect and draw in their audience, the trio believes strongly in communicating through both engaging performances and lively, informative comments on the music and its composers.
Biography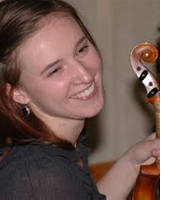 Olga Patramanska-Bell, Violinist
Violinist Olga Patramanska-Bell was born and raised in Ukraine, where she received her musical education. She received her Bachelor's degree at the R.M. Glier Kyiv State Higher Music College, studied at the National Musical Academy of Ukraine, and received her Masters of Music degree at the Longy School of Music under the guidance of Mr. Mark Lakirovich. She has performed as a soloist with the Longy Chamber Orchestra, National Pops Symphony Orchestra, and Philharmonia Orchestra in Ukraine. Olga has performed with such groups as Boston New Music Initiative, Equilibrium Ensemble, Walden Chamber Players, ECCE ensemble, and Harvard Baroque Chamber Orchestra. She has served as concertmaster for Boston Opera Collaborative, Harvard's Lowell House Opera, and Commonwealth Lyric Theater, and is an assistant member of the Boston Philharmonic Orchestra and Symphony New Hampshire. She teaches violin at Winchester Community Music School, and is a member of Grand Harmonie and Atlantic Symphony Orchestra.
Ashima Scripp, Cellist
Cellist Ashima Scripp has toured extensively throughout the United States and abroad. A dedicated and sought-after chamber music collaborator, Ms. Scripp has performed hundreds of works from Bach to Schoenberg for audiences around the country and been invited to perform as part of the New Hampshire, North Country Chamber Players, VentiCordi, Hot Springs and Kneisel Hall chamber music festivals. In 2004 she joined the critically acclaimed Walden Chamber Players, and became the ensemble's Artistic Director in 2012. Ms. Scripp has served on the cello and chamber music faculty of the Longy School of Music and Concord Academy as well as the Killington Music Festival, the Chamber Music Conference and Composer's Forum of the East, and the International Summer Music Academy in Regensberg, Germany. Ms. Scripp received her Bachelor of Music degree from the Manhattan School of Music as a student of Alan Stepansky and her Master of Music degree from Northwestern University as a student of Hans Jensen. For more about Ashima, visit: www.waldenchamberplayers.org.
Eleanor Perrone, Pianist
Pianist Eleanor Perrone has concertized in Brazil and Europe, performing in Sao Paolo, Campinas, Brussels, German-American Institutes at Kiel, Saarbrucken and Heidelberg, Teatro alle Vigne di Lodi, and the American Academy in Rome, featuring the piano music of former Academy prize winners, Yehudi Wyner and Stephen Hartke. Other solo and chamber music engagements include Caramoor Festival, Merkin Hall, Alice Tully Hall, Courthouse Center for the Arts, LiveArts concert series, and Highfield Hall "Music at the Mansion" series. Concerto engagements have included the Boston Pops, Orquestra Sinfonica de Campinas and the Billings Symphony. Ms. Perrone received her Bachelor and Master of Music degrees from Boston University and has studied with Patricia Zander, Anthony di Bonaventura, Bela Boszormenyi-Nagy, and Leonard Eisner. Former piano faculty of the Longy School of Music, she also served as Associate Chair and Chair of piano in Community Programs from 2005-2010. She teaches privately and at the Rivers School Conservatory in Weston (MA). She has recorded Beethoven Diabelli Variations and Bagatelles Op. 126 on a VQR digital CD. For more about Eleanor, visit: www.eleanorperrone.com.
Upcoming Concerts
Program:
Mozart: Piano Trio in Bb Major, K. 502 (Duxbury and Winchester)
Higdon: Piano Trio (Pale Yellow and Fiery Red)
Smetana: Piano Trio in g minor, Op. 15
Ukrainian Folk Song: arranged by Margaret Boswell Senyshyn (Duxbury and Framingham)
Thursday, November 3, 2022, 12:00 pm
Concord Community Music School
23 Wall Street, Concord, NH
603-228-1196
email: ccms@ccmusicschool.ord
www.cmusicschool.org

Sunday, November 6, 2022, 4:00 pm
Art Complex Museum at Duxbury
189 Alden Street, Duxbury, MA 02331
781-934-6634
www.artcomplex.com

Sunday, November 13, 2022, 3:00 pm | Free
Framingham Public Library
49 Lexington Street, Framingham, MA
This concert will also be live-streamed:
https://www.youtube.com/FraminghamPublicLibrary
978-683-8222
www.framinghamlibrary.org

Sunday, November 20, 2022, 3:00 pm | Free
Winchester Community Music School
407 Highland Avenue, Winchester, MA 01890
781-721-2950
www.winchestermusic.org

Thursday, March 16, 2023, 7:30 | PRIVATE EVENT
Lasell Village
Contact e.pi@me.com to attend

Sunday, March 19, 2023 | PRIVATE EVENT
Brookhaven at Lexington

Listen
Click on the links to access file.
Haydn Gypsy Trio - Andante
Haydn_Gypsy_Trio_Andante.mp3
Brahms C Minor Trio - Andante Grazioso
12_Brahms_C_minor_trio_Andante_Grazioso.mp3
Schoenfield Cafe Music - Allegro con fuoco
Cafe_Music_Allegro.mp3
Contact
For more information about any scheduled concerts or for booking
information please email triozefira@gmail.com.